This Building Research Levy-funded project investigated the potential of persuading clients of volume builders to specify higher-than-minimum features. Was there was a point of intervention in the design process where clients could be helped to understand the importance of exceeding minimum Code requirements? Ideally this would result in wider uptake of specifications beyond the minimum Building Code, and increasing offering of higher specification features by volume home builders.
The team developed an approach to influencing the end consumer in the interaction between the volume home builder and client. However, recruiting a volume home builder to participate proved difficult.
Instead, the project refocused on community housing providers. The team talked to community housing providers – who are already focused on providing high performing homes for their tenants – about the benefits of exceeding the minimum in their housing standards in terms of both meeting their mission and of their role as landlord. Modular information, developed in the project, also supported increased standards and exceeded minimums for KiwiBuild. The materials originally developed for volume home builders were repurposed to meet the community housing provider and KiwiBuild needs, showing the flexibility of this approach.
The project developed a framework of higher performing features to help volume home builders and their clients better understand and communicate the importance of exceeding the minimum. This included a variety of ways to present the features to clients – for example, graphics, simple information modules, or website blogs.
The framework and information resources can be adapted and used by a range of audiences including: Eco Design Advisors, volume home builders, community housing providers, Kāinga Ora and social housing providers, and, potentially, consumers.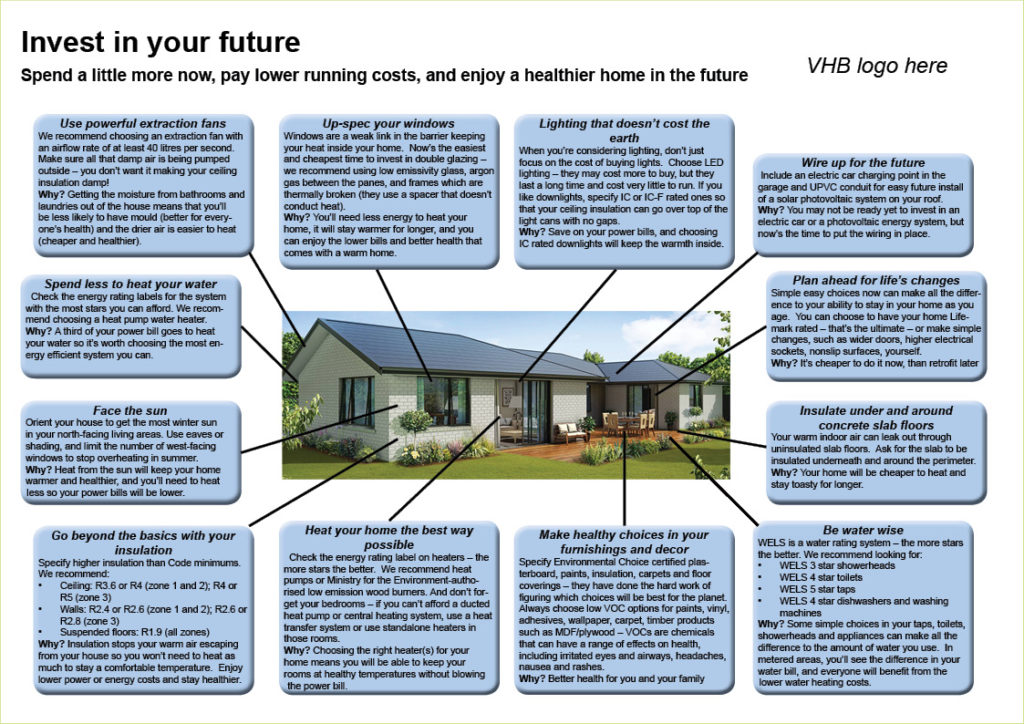 If you're interested in using these resources for your clients, we're happy to help you adapt them to your needs. Contact us at office@beaconpathway.co.nz